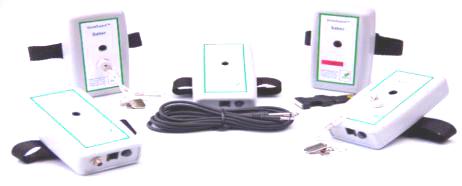 Duraguard™ Alarm Monitors are available for chair, bed and floor applications. Several Duraguard™ Specialty Alarm models are also available, including the Magnetic Reset, Nurse Call, Pull-string, All-in-one, Quadra-tone, Tamper-guard and the Xybol-exclusive Silent Total Monitoring System.
Features and Benefits:
Include industry standard RJ cable connectors that are compatible with all other manufacturers' alarms. A Xybol® Tight Lock Connector option is also available. The Tight Lock Connector provides a superb pad and alarm connection and is guaranteed to prevent cord and connector breakage and unwanted disconnect.
Feature a high-impact ABS enclosure, a robust failure-proof pushbutton reset function and universal mounting clips and buckle straps.
Offer a pleasing tuned-alarm tone, but can be ordered in a "loud" version.
The Quadra-tone alarm offers four user-settable tones for location identity within your facility.
Supplied with a single 9V battery that provides long life (1 year @ 1/2 hour per day alarm state) and can be easily replaced by the user as required.
Are "always on" and cannot be turned off by accident or by the patient.