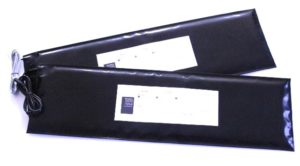 Duraguard™ Sensor Pads are available in any size for chair, bed and floor applications. They have been engineered from the ground up using the highest quality electrical components and state-of-the-art materials with input from nurses and medical professionals.
Duraguard™ Sensor Pads are made of safe, environmentally conscious, non-polar, non-porous materials that offer easy cleaning and are non-allergenic
The pads are chemical and liquid resistant to dirt, liquid and even acid will not harm the surface of the sensor, and the entire pad can be immersed in liquid up to the cord ingress.
Features and Benefits:
Includes the unique Xylock™ Fastening System to lock the sensors in position. The Xylock™ Fastening System uses replaceable adhesive inserts that can quickly and easily be replaced for unlimited sensor reuse and relocation.
Includes industry standard RJ cable connectors that are compatible with all other manufacturer's alarms. A Xybol® Tight Lock Connector option is also available. The Tight Lock Connector provides a superb pad and alarm connection and is guaranteed to prevent cord and connector breakage.
Are highly durable – pull it, fold it, bend it, cut it, roll it into a ball, drive over it … we guarantee it will continue to perform.
Available antimicrobial coating that protects the treated pad from MRSA, E. Coli, VRE, and C. Diff spores, while preventing mold, mildew and odor.
Made in the USA — engineered and built with pride in our Ipswich, Massachusetts, facility.